The Yearsley Shoot provides simulated game shooting in a picturesque part of North Yorkshire. We are very fortunate to have a mixture of steep hills, woodland, thick hedges and grassland; allowing us to offer a wide variety of drives. The topography lends itself to throwing some superb targets.
We are able to cater for teams of between 10 and 16 guns. However, if you have a smaller group, please contact us and we will do our best to accommodate you. Our aim is to replicate the experience and excitement of a real game shoot, with delicious food and drink served throughout the day.
We pride ourselves on our hospitality and making sure everyone has a fun and enjoyable day. To book your team in, please contact us for available dates.
As an official Hull Cartridge Stockist and can provide unlimited cartridge packages to maximise your experience. Contact us for package prices.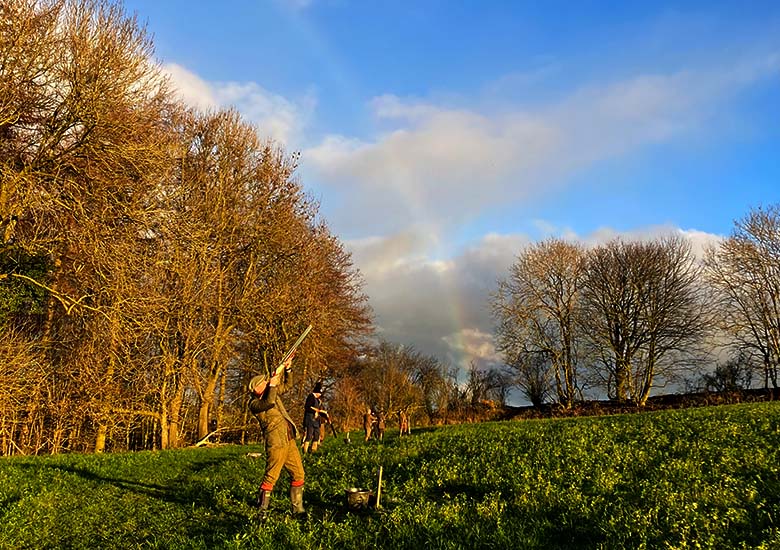 A Typical Simulated Game Day
---
 We will shoot five drives, with food and drink provided throughout the day.
---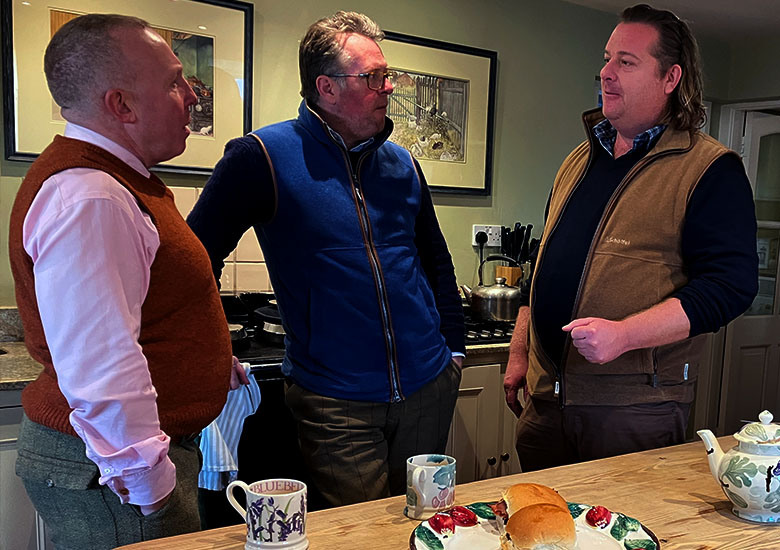 Arrival
---
09:45 – 10:00
---
Guests arrive in the morning for a bacon sandwich and a cup of tea or coffee.
After a safety briefing, the guns will head out and shoot three drives. 
Guns work in pairs. We run each of the drives twice so one gun will shoot and the other will load, then you switch. This ensures that everyone is always involved throughout the day. 
Elevenses
---
12:30
---
After three drives, hearty elevenses are served in the field overlooking our stunning views.
We will then shoot two more drives.   
Late Lunch
---
15:00
---
Following the final drive, we will head back to the house for a delicious homemade and locally sourced lunch.
Shooting through allows our guests time to relax and enjoy exchanging stories. 
Amazing day Ed! Great targets, hospitality way beyond expectations and the gun bus is great. A lot of sim shoots could learn a great deal from yourself and your team. Please thank everyone involved in running the day.

Ed, a big thank you to you and your lovely family for hosting us all today. We had a fantastic time and will most definitely be up for another visit. I've been on quite a few sim days now and yours is the one I'd rank at the top for overall professionalism, enjoyment and value for money.

An absolutely fantastic day with a great host. Ed was very friendly and welcoming and looked after us from start to finish. We arrived to breakfast and coffee in the farmhouse before we got underway. Then we did 5 drives, in between each drive we had refreshments & half way through we had elevenses. We finished off with a home cooked meal at the end too. The drives were great especially the grouse drive with some really challenging shots throughout the day. One of the best simulated game days around.

A fantastic day with Ed and his family - a truly professional set up that included some excellent and challenging drives. The topography and views of the surrounding countryside were breathtaking and this coupled with some of the best home cooking we have sampled made for a day to remember. This will be a simulated day that will go from strength to strength and I highly recommended.